Transportation
Home > Korea & Daegu > Transportation
How to get to Daegu?
The major arrival points in Korea are the Daegu International Airport (Daegu), Incheon International Airport (Seoul) and the Gimhae International Airport (Busan).

When you plan to arrive directly to Daegu Int'l Airport, check out international hub airport transit. Daegu Int'l Airport directly connects to International hub airports in 15 cities BANGKOK, BEIJING, CEBU, DANANG, FUKUOKA, GUAM, HONGKONG, OKINAWA, OSAKA KANSAI, SHANGHAI PUDONG, SANYA, SAPPORO, TAIPEI TAOYUAN, TOKYO NARITA, VLADIVOSTOK (as of Apr. 2018)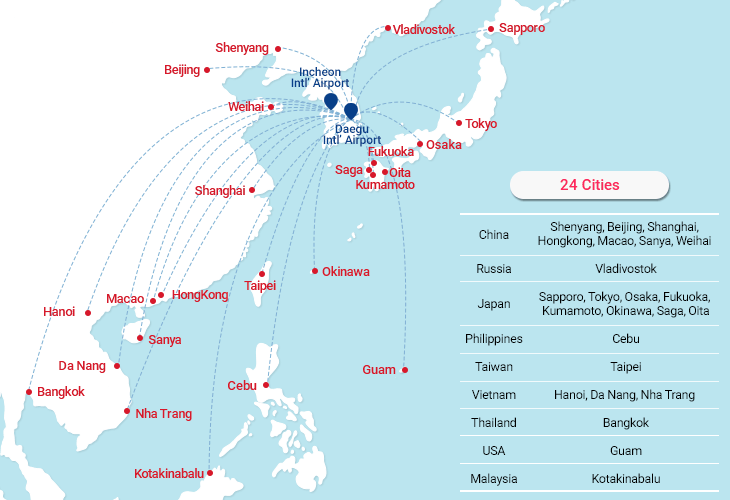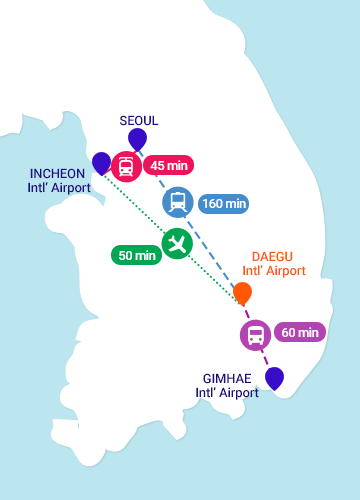 How to get to EXCO?
Route 01.

International Hub Airport → Daegu Int'l Airport

Click for details

Route 1.International Hub Airport → Daegu Int'l Airport




Daegu Int'l Airport directly connects to International hub airports in 13 cities as follows;
BANGKOK, BEIJING, CEBU, DANANG, FUKUOKA, GUAM, HONGKONG, OKINAWA, OSAKA KANSAI, SHANGHAI PUDONG, SANYA, SAPPORO, TAIPEI TAOYUAN, TOKYO NARITA, VLADIVOSTOK (as of Apr. 2018)
When you plan to arrive directly to Daegu Int'l Airport, check out international hub airport transit.
Website: https://www.airport.co.kr/daegueng/main.do

Route 02.

Incheon Int'l Airport → Daegu Int'l Airport

Click for details

Route 2.Incheon Int'l Airport → Daegu Int'l Airport

Direct Flight Schedule (only 2 times per a day)

Route
Departure Time
Arrival Time
Travel Duration
Fee (One-way)
Incheon Int'l Airport → Daegu Int'l Airport
07:35 AM
08:35 AM
1 hour
86,200 KRW
19:25 PM
20:20 PM

As of 18 January 2018, Korean Air flight between Incheon and Daegu is operated as a transit-exclusive domestic flight. Only transit passengers connecting from/to international flights at Incheon will be allowed to use this flight.

Transit Exclusive Domestic Flights [Terminal 2 →to Terminal 1/Concourse]

Arrival/Transfer (2nd Floor)

After arrival, move along with "Terminal 1 / Concourse" signage and pass through the automatic transfer gate. (be ready to show passport or e-ticket)

Take the IAT train (B1)

Take the Orange line IAT train and get off at the concourse.
For terminal 1, you must transfer to the Blue line IAT train at the concourse.

Transfer Security Screening

Pass through the transfer security screening on the 2nd floor.

Departure/Gate Screening

After security screening, head to the gate on the 3rd floor (departure) for your flight.

Route 03.

Incheon Int'l Airport → GwangMyeong Station → Dongdaegu Station

Click for details

Route 3. Incheon Int'l Airport → GwangMyeong Station → Dongdaegu Station

Contact: Incheon Int'l Airport KTX Info Desk (1st Flr, Exit 7) +82-32-741-7788

Airport Limousine Bus

Route
The First Bus
The Last Bus
Travel Duration
Fee (One-way)
Incheon Int'l Airport Terminal 2 →
Incheon Int'l Airport Terminal 1 → GwangMyeong Station
06:10
22:20
(T1) 1hr 10min
(T2) 50min
15,000 KRW

It takes around 20min. from Incheon Int'l Airport Terminal 2 to Terminal 1via limousine bus.
Airlines at Terminal 2: Korean Air, Delta Airlines, Air Fance, KLM Royal Dutch Airlines (Others will arrive at Terminal 1)
Online ticketing is unavailable and you are required to purchase onsite.
KTX Airport Limousine (6770)

Incheon Airport
Terminal 2
6:10
6:40
7:00
7:20
7:50
8:20
8:50
9:10
9:30
9:50
10:20
10:50
11:20
11:50
12:10
12:30
13:00
13:30
14:00
14:30
15:00
15:20
15:40
16:00
16:30
17:00
17:30
18:00
18:30
18:50
19:10
19:30
20:00
20:30
21:00
21:20
21:40
22:20
Incheon Airport
Terminal 1
6:28
6:58
7:18
7:38
8:08
8:38
9:08
9:28
9:48
10:08
10:38
11:08
11:38
12:08
12:28
12:48
13:18
13:48
14:18
14:48
15:18
15:38
15:58
16:18
16:48
17:18
17:48
18:18
18:48
19:08
19:28
19:48
20:18
20:48
21:18
21:38
22:08
22:38

Where to get on

Terminal 1 1F 8A

Terminal 2 B1F 45

KORAIL KTX (Korea Train Express) Schedule

| Route | The First Train | The Last Train | Travel Duration | Fee (One-way) |
| --- | --- | --- | --- | --- |
| GwangMyeong Station → Dongdaegu Station | 05:20 AM | 23:10 PM | 1hr 30min | Adult : KRW 41,300 |

You can check train schedules and purchase tickets on-line up to 1 month in advance.

Route 04.

Incheon Int'l Airport → AREX → KTX

Click for details

Route 4.Incheon Int'l Airport → AREX → KTX

AREX (Airport Railroad Express) Schedule

Route
The First Train
The Last Train
Travel Duration
Fee (One-way)
Incheon Int'l Airport Terminal2 →
Incheon Int'l Airport Terminal1 →
Seoul Station
05:15
22:40
51min
Adult : KRW 9,000
Child : KRW 7,000

It takes about 8min from the Incheon Int'l Airport Terminal 2 to Terminal 1.

Route map

Departure Time Schedule

Incheon Int'l Airport
Terminal 2
5:15
5:55
6:40
7:20
8:20
8:40
9:20
9:55
10:40
11:20
11:50
12:40
13:20
13:50
14:40
15:20
15:45
16:40
17:20
17:50
18:40
19:20
19:55
20:40
21:40
22:40
Incheon Int'l Airport
Terminal 1
5:23
6:03
6:48
7:28
8:28
8:48
9:28
10:03
10:48
11:28
11:58
12:48
13:28
13:58
14:48
15:28
15:53
16:48
17:28
17:58
18:48
19:28
20:03
20:48
21:48
22:48
Arrival time to
Seoul Stn.
6:07
6:46
7:31
8:11
9:11
9:31
10:11
10:46
11:31
12:11
12:41
13:31
14:11
14:41
15:31
16:11
16:36
17:31
18:11
18:41
19:31
20:11
20:47
21:31
22:31
23:31

Where to get on

Terminal 1 Transit Center (B1)

Terminal 2 Transit Center (B1)

KORAIL KTX (Korea Train Express) Schedule

Route
The First Train
The Last Train
Travel Duration
Boarding Location
Fee (One-way)
Seoul Station → Dongdaegu Station
05:05 AM
23:00 PM
1hr 50min
Seoul Station
Adult : KRW 43,500
Child : KRW 21,700

You can check train schedules and purchase tickets on-line up to 1 month in advance.
Customer Service Center : (82) 1544-7788 + 7

Route 05.

Incheon Int'l Airport → Dongdaegu Express Bus Terminal

Click for details

Route 5.Incheon Int'l Airport → Dongdaegu Express Bus Terminal

Airport Limousine Bus

Route
The First Bus
The Last Bus
Travel Duration
Fee (One-way)
Incheon Int'l Airport Terminal 2 →
Incheon Int'l Airport Terminal 1 → Dongdaegu Express Bus Terminal
06:20
23:30
4hr 30min
35,800 KRW

It takes around 20min. from Incheon Int'l Airport Terminal 2 to Terminal 1via limousine bus.
Airlines at Terminal 2: Korean Air, Delta Airlines, Air Fance, KLM Royal Dutch Airlines (Others will arrive at Terminal 1)
Online ticketing is unavailable for a foreigner since website (Incheon Airport → Dongdaegu : https://txbuse.t-money.co.kr/) do not receive foreigner cardholder's credit card.
Departure time table (updated as of Feb., 2018)

Incheon Airport
Terminal 2
6:20
6:40
7:20
7:40
8:00
8:20
8:40
9:00
9:20
10:00
10:20
10:40
11:20
11:50
12:10
13:00
13:20
13:50
14:20
14:40
15:20
16:00
16:20
16:40
17:20
18:00
18:20
18:40
19:20
20:00
20:20
20:40
21:20
21:40
22:00
22:40
23:30
Incheon Airport
Terminal 1
6:40
7:00
7:40
8:00
8:20
8:40
9:00
9:20
9:40
10:20
10:40
11:00
11:40
12:10
12:30
13:20
13:40
14:10
14:40
15:00
15:40
16:20
16:40
17:00
17:40
18:20
18:40
19:00
19:40
20:20
20:40
21:00
21:40
22:00
22:20
23:00
23:50

Bus ticket office

Terminal 1: You can purchase bus tickets and get information at ticketing offices next to Exit 4 and 9 in Arrival Hall Floor 1 (indoors) or offices next to Exit 4, 6, 7, 8, 11, 13, and 9C (outdoors).
Terminal 2: You can purchase bus tickets and get information at ticketing offices outdoors and indoors on Transit Center (B1).

Terminal 1 Bus stop location (1Floor No.10 )

Terminal 2 Bus stop location (Traffic center Basement 1 No. 3 )

Airlines at Terminal 2: Korean Air, Delta Airlines, Air Fance, KLM Royal Dutch Airlines

Taxi

| Route | Travel Duration | Route |
| --- | --- | --- |
| Dongdaegu Express Bus Terminal → EXCO | Approx. 15min. | 6,000 KRW |

* Korean Taxi drivers are not good at speaking English. Please bring the Korean message card as follows.

엑스코 로 가주세요
I want to go to EXCO (Congress venue).

Route 06.

Busan Int'l Airport (Gimhae International Airport) → Airport Limousine Bus

Click for details

Route 6.Busan Int'l Airport (Gimhae International Airport) → Airport Limousine Bus

Airport Limousine Bus Schedule

Route
The First Bus
The Last Bus
Travel Duration
Boarding Location
Fee (One-way)
Busan Int'l Airport
(Gimhae International Airport) →
Dongdaegu Express Bus Terminal
07:10
22:30
1hr 10min
International Terminal 1st Floor Bus Stop 1-1
7,200~10,400 KRW

Contact: Passenger Terminal 1st Flr. Bus Info Counter (Exits 2, 4, 9, 13) +82-53-355-1241