Venue & Facilities
Home > General Information > Venue & Facilities
Title

The 10th IBRO World congress of Neuroscience

Date

21 – 25 September, 2019

Venue

EXCO (Daegu Convention & Exhibition Center), Daegu (1676, Sangyeok-dong, Buk-gu, Daegu, Korea)
Website: http://www.exco.co.kr/en

Co-hosted by

Korea Brain Research Institute(KBRI), the Korean Society for Brain and Neural science(KSBNS)
Floor Plan
Facility Information
IBRO2019 provides a number of resources for the attendees during the conference. For any inquiries on these services, please contact us at info.ibro2019@gmail.com
Infant-Care Facilities
An infant-care room with privacy for parents and guardians caring for their infants is available at the EXCO Convention Center.
The room is equipped with a sofa and a private area for diaper change or nursing, as well as an outlet for electricity and a water dispenser.
Parents and guardians are responsible for their infant care supplies. The infant caring room is also unsupervised. IBRO2019 is not responsible for accidents or injuries that may occur in this area.

Child-Care Service
On-site child-care service is provided through IBRO2019. This will provide attendees with children additional flexibility in their schedules and having a reliable, affordable, and dependable option for child care.
Location

Room 506, 5th floor, EXCO Convention Center

Operating Hours

9:30-18:00, 21 – 25 September, 2019

Age

From 4 to 10 years old

Fee

Payment must be settled at the entrance of the room.
Half day(AM or PM): 50 USD
1 hour : 20 USD

Time

| Child-Care Service | Open | Close | Lunch Time (Closed) |
| --- | --- | --- | --- |
| Saturday (Sept. 21) | 10:00 | 18:00 | 12:00-13:30 |
| Sunday (Sept. 22) | 8:30 | 18:00 | 12:30-14:40 |
| Monday (Sept. 23) | 8:30 | 12:30 | |
| Tuesday (Sept. 24) | 8:30 | 18:00 | 12:30-14:40 |
| Wednesday (Sept. 25) | 8:30 | 18:00 | 12:30-14:40 |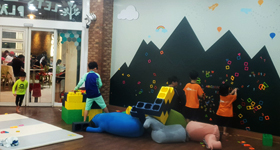 EBS Little Socium (Job Experience Program)
The EBS Little Socium is a job experience theme park where children can experience their future dream jobs in realistic environments.
There are four zones (moral, auto, creaty, and symbi) with a total of 60 type of jobs represented.
As IBRO2019 attendees, you can download and print the provided coupon for a special discount on the entrance fee.
All policies and fees are established by the EBS Little Socium, and all questions should be addressed to their staff.
Location

B1 Floor, EXCO Convention Center

Operating Hours

Full day: 10:00-18:30
Half day (1): 10:00-14:00
Half day (2): 14:30-18:30

Age

3-year-old – 13-year-old

Fees/Payment

Payment must be made on-site and directly to the EBS Little Socium.

Special Remarks

All programs are conducted in Korean language.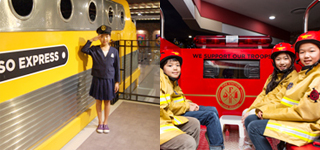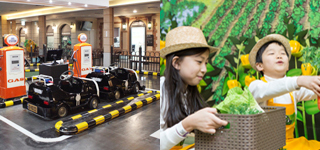 Restaurants in EXCO Convention Center
Food Court
Location

2nd floor lobby, EXCO convention center

Operating hours

10:00 – 19:00

Menu

Cheese Pork Cutlet, Fried Shrimp Fish Cake Udon, Hot Spicy Beef Stew, Rice with Bulgogi, etc.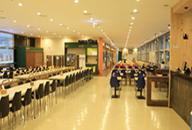 Dadamddeul, Korean Buffet
Location

2nd floor lobby, EXCO convention center New building

Operating hours

11:00 – 21:00

Menu

Noodles, Bibimbap, Curry, Cakes, Pork, Rice roll, Chicken, Salad, Vegetables, Fruits, etc.
*The menu can be changed